---
Welcome to My World:
the Realm of Dolphins and Whales



As a child I was always open to all that was in my environment from the Earth's Fairy Realm to the vast unlimited Star System of Angels and other Light Beings. When I was 3 years old I was given information on how to talk with the angels and fairies without anyone else knowing. I had many dolls, with the whole furniture settings, etc. and would talk to my unseen friends through my dolls. No one questioned my speaking aloud to my unseen friends, for they thought I was talking to the dolls as part of a make-believe world. It was a very ingenious way my angels figured out how we could Communicate.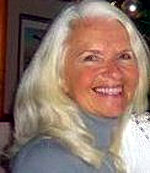 Then when I got a little older, I wasn't able to communicate through dolls any longer, so for a period of time I shut down my communication trying to fit in with my peers. This continued when I got married as I shut down communications even further, because my husband wasn't sure at times if I was ok, when I spoke about anything that he couldn't see. So it took many years until I would begin again to be more of MY TRUE SELF versus WHO I WAS SUPPOSE TO BE!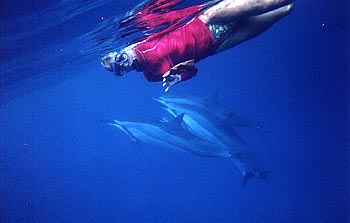 In the 1970's that changed as I decided to speak up for myself and what I was choosing in my life.
Well of course, that didn't sit well with my family. I was left feeling even more misunderstood as their insecurities had me opening and shutting down ceaselessly until I met my first Spiritual Master. He helped me to examine more of myself. Then I started meeting other like-minded people, which created great joy in my heart again, about what was really real within me.
The next significant leap in my life came when my husband had a convention in San Diego and I went along with him for no other reason than knowing I just had to go. The first thing I did when we arrived was to walk across the street from our hotel to the ocean. As I walked along the beach I noticed 5 or 6-bottlenose dolphins riding in the wave, it appeared as though they were swimming through glass. I was amazed, yet even more amazed as I kept walking.
They all followed me, still riding in the waves. I went to the end of the beach, turned around, and to my surprise they did the same thing! Then they followed me all the way back!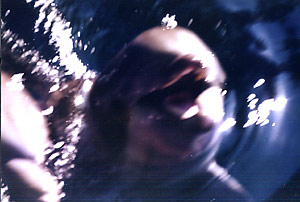 I was so excited that the next day I went out to the famous SeaWorld amusement park and sat with the whales and bottlenose dolphins. I felt more drawn to the dolphins at that time. I did this for 3 days, and communicated very easily with my new friends at the park which happened to be Atlantic Bottlenose dolphins - just like the TV star, Flipper. Then on the last day, I went down to the viewing window and this very large dolphin with a BLUE EYE looked at me and I instinctively knew what it was saying to me. I got so excited! But then I questioned its Blue Eye, thinking, they don't have Blue Eyes do they? So, I asked the attendant about it and he said" NO", they don't have Blue Eyes!
Well, yes they do! This dolphin came around to me many times and looked me right in the Eye and so I could clearly see its Eye Was Blue! I'm not sure to this day why is appeared Blue, although I know that I've always been mesmerized by Clear Blue Eyes all my life. My dad had clear, ski blue eyes and I also had them until I was 3years old, then they changed color! Interesting connection for me!!!
I had to then hurry to leave for I had a plane to catch, but I spoke these words to them before I left:
"I have to do more than just touch you (we were able to feed and touch them), I have to swim with you!"
Just when I arrived home, on my phone-recorder is a message from a good friend asking me if I wanted to go to Hawaii and swim with the dolphins! Well, I immediately called and said, "Yes," without hesitation. A week later I found myself in Hawaii on a dolphin seminar. We were the first participants of a new workshop facilitated by these beautiful people who are now my best friends, Doug Hackett and Trish Regan.
Now, the Real Excitement in my life was to begin . . .
Perhaps you'd like me to guide you further? I offer Sacred Journeys in Hawaii, dolphin swims and a trip to Tonga to swim with whales!